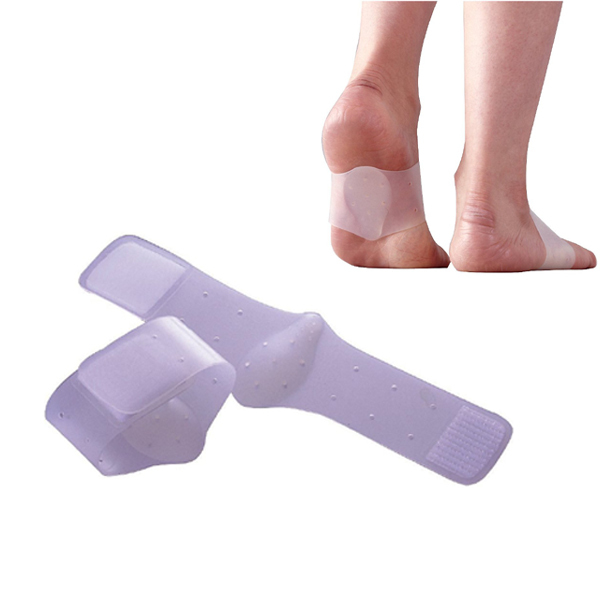 Overview
The plantar fascia is made up of 3 distinct parts: the medial, central, and lateral bands. The central plantar fascia is the thickest and strongest section, and this segment is also the most likely to be involved with plantar fasciitis. In normal circumstances, the plantar fascia acts like a windlass mechanism to provide tension and support through the arch. It functions as a tension bridge in the foot, providing both static support and dynamic shock absorption.
Causes
Repeated small injuries to the fascia (with or without inflammation) are thought to be the cause of plantar fasciitis. The injury is usually near to where the plantar fascia attaches to your heel bone. You are more likely to injure your plantar fascia in certain situations. For example, if you are on your feet for a lot of the time, or if you do lots of walking, running, standing, etc, when you are not used to it. (Plantar fasciitis may be confused with 'Policeman's heel', but they are different. Policeman's heel is plantar calcaneal bursitis - inflammation of the sack of fluid (bursa) under the heel bone. This is not as common as plantar fasciitis.) Also, people with a sedentary lifestyle are more prone to plantar fasciitis. If you have recently started exercising on a different surface, for example, running on the road instead of a track. If you have been wearing shoes with poor cushioning or poor arch support. If you are overweight this will put extra strain on your heel. If there is overuse or sudden stretching of your sole. For example, athletes who increase running intensity or distance; poor technique starting 'off the blocks', etc. If you have a tight Achilles tendon (the big tendon at the bottom of your calf muscles above your heel). This can affect your ability to flex your ankle and make you more likely to damage your plantar fascia. Often there is no apparent cause for plantar fasciitis, particularly in older people. A common wrong belief is that the pain is due to a bony growth or 'spur' coming from the heel bone (calcaneum). Many people have a bony spur of the heel bone but not everyone with this gets plantar fasciitis.
Symptoms
Plantar fasciitis sufferers feel a sharp stab or deep ache in the middle of the heel or along the arch. Another sign is the morning hobble from the foot trying to heal itself in a contracted position overnight. Taking that first step causes sudden strain on the bottom of the foot. The pain can recur after long spells of sitting, but it tends to fade during a run, once the area is warmed up.
Diagnosis
After you describe your symptoms and discuss your concerns, your doctor will examine your foot. Your doctor will look for these signs. A high arch, an area of maximum tenderness on the bottom of your foot, just in front of your heel bone. Pain that gets worse when you flex your foot and the doctor pushes on the plantar fascia. The pain improves when you point your toes down. Limited "up" motion of your ankle. Your doctor may order imaging tests to help make sure your heel pain is caused by plantar fasciitis and not another problem. X-rays provide clear images of bones. They are useful in ruling out other causes of heel pain, such as fractures or arthritis. Heel spurs can be seen on an x-ray. Other imaging tests, such as magnetic resonance imaging (MRI) and ultrasound, are not routinely used to diagnose plantar fasciitis. They are rarely ordered. An MRI scan may be used if the heel pain is not relieved by initial treatment methods.
Non Surgical Treatment
About 90% of plantar fasciitis cases are self-limited and will improve within six months with conservative treatment and within a year regardless of treatment. Many treatments have been proposed for the treatment of plantar fasciitis. First-line conservative approaches include rest, heat, ice, calf-strengthening exercises, techniques to stretch the calf muscles, achilles tendon, and plantar fascia, weight reduction in the overweight or obese, and nonsteroidal anti-inflammatory drugs (NSAIDs) such as aspirin or ibuprofen. NSAIDs are commonly used to treat plantar fasciitis, but fail to resolve the pain in 20% of people. Extracorporeal shockwave therapy (ESWT) is an effective treatment modality for plantar fasciitis pain unresponsive to conservative nonsurgical measures for at least three months. Corticosteroid injections are sometimes used for cases of plantar fasciitis refractory to more conservative measures. The injections may be an effective modality for short-term pain relief up to one month, but studies failed to show effective pain relief after three months. Notable risks of corticosteroid injections for plantar fasciitis include plantar fascia rupture, skin infection, nerve or muscle injury, or atrophy of the plantar fat pad. Custom orthotic devices have been demonstrated as an effective method to reduce plantar fasciitis pain for up to 12 weeks. Night splints for 1-3 months are used to relieve plantar fasciitis pain that has persisted for six months. The night splints are designed to position and maintain the ankle in a neutral position thereby passively stretching the calf and plantar fascia overnight during sleep. Other treatment approaches may include supportive footwear, arch taping, and physical therapy.
Surgical Treatment
The most common surgical procedure for plantar fasciitis is plantar fascia release. It involves surgical removal of a part from the plantar fascia ligament which will relieve the inflammation and reduce the tension. Plantar fascia release is either an open surgery or endoscopic surgery (insertion of special surgical instruments through small incisions). While both methods are performed under local anesthesia the open procedure may take more time to recover. Other surgical procedures can be used as well but they are rarely an option. Complications of plantar fasciitis surgery are rare but they are not impossible. All types of plantar fasciitis surgery pose a risk of infection, nerve damage, and anesthesia related complications including systemic toxicity, and persistence or worsening of heel pain.
Stretching Exercises
While it's typical to experience pain in just one foot, massage and stretch both feet. Do it first thing in the morning, and three times during the day. Achilles Tendon Stretch. Stand with your affected foot behind your healthy one. Point the toes of the back foot toward the heel of the front foot, and lean into a wall. Bend the front knee and keep the back knee straight, heel firmly planted on the floor. Hold for a count of 10. Plantar Fascia Stretch. Sit down, and place the affected foot across your knee. Using the hand on your affected side, pull your toes back toward your shin until you feel a stretch in your arch. Run your thumb along your foot--you should feel tension. Hold for a count of 10.